HIKVISION Dual Dashcam 4K Front 1080P Rear K5 with Hardwire Kit -Driving Recorder(DR99BK)
customers are viewing this product
Specifications
✅HIKVISION K5
- Front Camera: 3840x2160(Single) / 2560x1440(Dual)
- Rear Camera: 1080P
- The image quality can be adjusted by by mobile APP / 4" touch screen
- User may determine the SD card recording length accordingly, e.g. around 3 hours recording with 32GB card
- Support H.265 encoding
- The front camera uses a 123° wide-angle with F1.55 super aperture lens
- The rear camera uses a 125° wide-angle with F2.2 aperture lens
- Reverse camera function
-Voice Recognition support 9 Voice commands
Driving & Parking Mode
- Support driving recording
- Support parking recording, parking time can be adjusted by using mobile APP /touch screen
- Can choose time-lapse video recording or wakeup on collision in Parking Mode
- Intelligent Low Power Saving parking monitoring
- Original power supply cable for parking monitoring the voltage supplied by vehicle battery through hardware and software detection
- Automatically shuts down when it detects that the vehicle's power supply voltage is lower than the set value
- 3.5M Original Fuse Cable Included
- 5M Rear Camera Connection Cable Included
-Continuous recording at 1fps during parking mode. Compresses every 30 minutes of video into 1 minute to save memory card space, and allow much faster playback so you can catch noteworthy events instantly.
Built-in G-Sensor & WIFI
- Built-in three-axis acceleration sensor
- Emergency video is activated during collision
- Collision lock function prevents important segments from being covered
- G-Sensor sensitivity can be adjusted by mobile APP / touch screen
- Built-in WiFi to connect mobile APP
- Live view, playback of video clips, download recordings, feature settings
- In-App video sharing through social media APPs, e.g. whatsapp/wechat/etc.
Security Level Monitoring Mechanism
- Automatic loop and seamless recording
- Real-time monitoring of SD status via voice alarm and IPS screen display
- Support Class 10 Micro SD Card
- Up to 128GB Supported
Processor and Image Chip
- Huawai HiSilicon professional industrial grade processing chip
- CMOS image sensor
Operating Temperature & Power Consumption
- -20~70 °C, built in temperature protection module
- Automatically shuts down in extreme temperature
- Less than 5W
Input Power Specification
- 5VDC 2A
Image Processing
- Super Night Vision : In low light conditions, 3D denoising effectively eliminates noise, always good at capturing low-light scenes without over the top noise
- Rain and Fog Scene : Always keep images clear in heavy rain or fog
- Stabilisation : Adaptive matching, always maintaining excellent image quality
Voice Input & Output
- Built-in high sensitivity microphone to support voice command
- By using Mobile APP / touch s
⚠️ IMPORTANT NOTE ⚠️
1 Year Warranty
1x Hikvsion K5 Dual Dash Cam
1x Power Car Cahrger Cable/ Hardware Kit Cable ( Optional)
1x Rear Camera
1x Rear Camera Power cable
1x Bracket
1x 3M Adhesive
1x English User Manual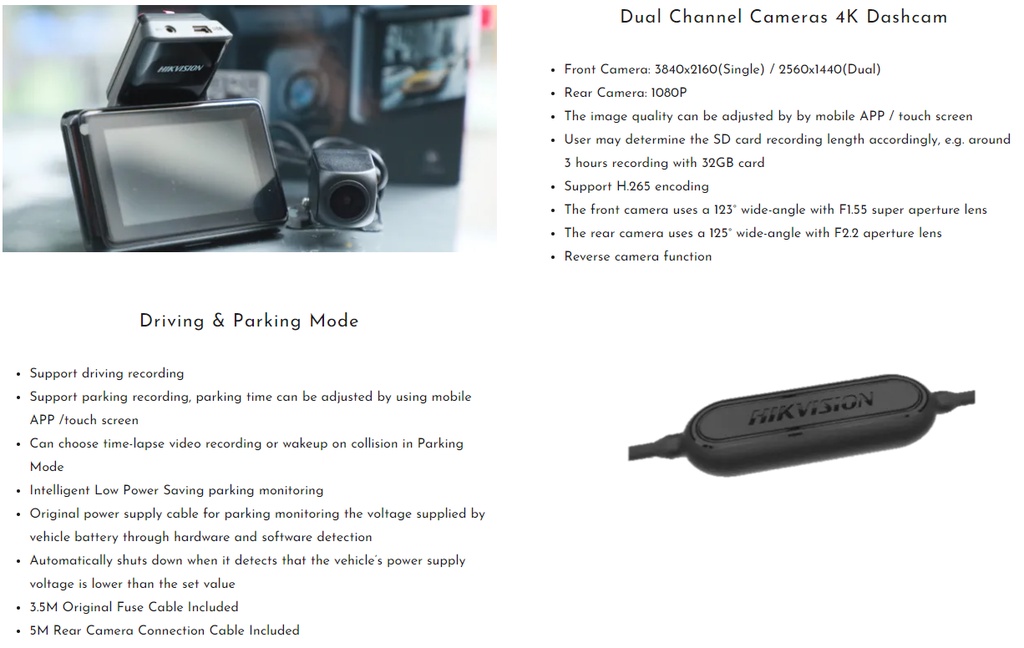 Shipping PolicyShipping Address
We currently only provide shipping within Malaysia (Peninsular Malaysia, Sabah and Sarawak.)
Please note that, the shipment delivery lead time and self pickup lead time will start on the next working day after your purchase.
Self-Pickup
You can choose to collect your purchases at our Low Yat Plaza, Digital Mall, IOI City Mall & MyTown Shopping Centre outlet
Once the order is ready for collection, we will send you an SMS message or email notification or Phone call.
* Self Pickup hours will be subjected to change due to public holiday and ALL IT's company events.
* Please Inspect purchase item during self pickup, ALL IT will not be liable to any damage or missing item once customer leave the outlet. (except defect cover by warranty).
* Self pickup order must be collected within 90 days from the purchase date. Failure to collect the order within the 90days time frame will result in the forfeit of the order and with no refund.
Shipping Time
All orders are delivered through our designated carrier.
For Peninsular Malaysia
It usually takes between 3-5 working days (Monday to Friday) for goods to arrive at your destination. The shipment will be delivered during office hours between 9:00 am to 5:00 pm weekdays only.
For East Malaysia
It usually takes between 5-7 working days (Monday to Friday) for goods to arrive at your destination. The shipment will be delivered during office hours between 9:00 am to 5:00 pm weekdays only.
For Pre-Order
We may not be able to guarantee the estimated shipping date for Pre-Order item. We will ship out the pre-order item, the moment the item arrived.
Pre-order may also be delayed subject to processes/approval from Malaysian Customs Department.
**Kindly be informed that due to festive season (eg. Christmas, Chinese New Year & Hari Raya), online order received are not guaranteed to arrive on time. The delay maybe due to cut off date set by our courier service provider or overcapacity.
** We shall not be liable to any losses or damages in the event of delay or failure of delivery caused by the courier service provider.
Please refer to this link for more information and detail about our Shipping Policy
--->
https://www.allithypermarket.com.my/pages/shipping-policy
Exchange Policy
ONE-to-ONE Exchange of Products within 14 Days is applicable for Online transactions.
Only certain products with a manufacturer's defect are entitled to a ONE-to-ONE exchange (subject to availability of stock)
Please note that certain products such as: Projectors, Monitors, Software, Tablets, Smartphones, Apple Products, Branded Desktops, Notebooks, Printers and Consumables (eg Ink Cartridges or Toners) are not available for a One-to-One exchange and must be sent to the manufacturer's' service centre for any warranty service.
The ONE-to-ONE Exchange of Products period will be according to the Invoice issued date.
Warranty Policy
All sales are considered final, no refund will be entitled.
ALL IT's warranty policy is in accordance with the terms and conditions of its respective suppliers.
ALL IT will provide warranty service for delivery to (and from) the manufacturer's Service Centre based on supplier/principal's given period - 3 or 6 months, 1 year, or more than 1 year. For item more than 1 year, we will cover warranty service for 1st year only. After 1st year, warranty handling fee will be charged.
To claim warranty, customer needs to send the product to any of our retail outlets or ALL IT online store office address located at Puchong, Selangor; at his / her own cost. The return of the repaired product to customer will also be at customer own cost. Customer can choose to send and pick-up repaired product at ALL IT outlets to avoid delivery fees.
Physical damage and software issues is not covered under warranty.
Customer can also opt to walk-in to any of our Klang Valley outlets to request for exchange or warranty services. You are required to bring along the invoice for verification purposes. By visiting our outlets direct, it will be faster and easier as our technicians can test the product on the spot. Our outlets location: http://www.allithypermarket.com.my/pages/store-location
Products warranty period will be according to the Invoice issued date.
Please refer to this link for more information and detail about our exchange Policy and Warranty Policy page
---> https://www.allithypermarket.com.my/pages/warranty-policy
Manufacturer's Warranty
Some of the goods advertised on this ALL IT's website come with a manufacturer's warranty. You should directly contact the manufacturer or service centre for details relating to the available manufacturer's warranty (if any)
Many of our products come with a guarantee or warranty from the manufacturer. By approaching brand's authorized service centre, the warranty process can be expedited.