Overview
Features
For PlayStation 3 and PlayStation 4
Enhance your console experience
You will never want to race with a regular controller again after you add Driving Force to your controller selection.
G29 game steering wheel is designed for the latest racing games for your PlayStation®4 or PlayStation®3 console. G29 Driving Force also works on your PC using Logitech Gaming Software.
Download Logitech Gaming Software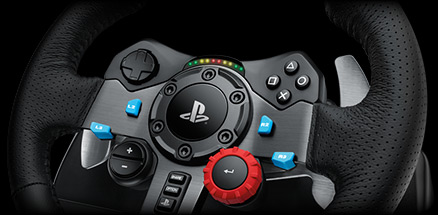 Dual-Motor Force Feedback
Feel every weight shift, and tire slip
Feel your tires on every turn and type of terrain, sense under- or over-steer drifting and more. Powerful dual-motor force feedback realistically simulates force effects so you can respond with precision.
Quality Construction
Race-ready materials that can handle it all
Driving Force handles the stress of racing action and is built for long-lasting reliability. G29 has solid steel ball bearings in the wheel shaft and stainless steel paddle shifters and pedals. The race wheel is covered in high-quality, hand-stitched leather, giving it the look and feel of a high-performance racecar wheel and giving you a more comfortable, durable experience.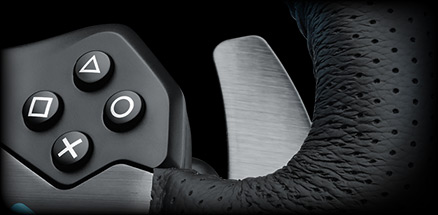 Helical Gearing with Anti-Backlash
Tight, smooth, precise control
You get an exceptionally smooth, quiet steering action. Helical gears are modeled after gears used in automotive transmissions to reduce unwanted noise and vibration. Anti-backlash keeps the wheel and pedals tight, maximizing your control. G29 Driving Force Racing Wheel features a long lasting, reliable hall-effect steering sensor, using magnetic fields to sense the position of the wheel.
Easy-Access Game Controls
Control right at your fingertips
All your controls are where you can reach them. The D-Pad, buttons and paddle shifters are incorporated into the racing wheel. LED indicator lights positioned just above the center of the wheel tell you exactly when to up- or down-shift. You maintain maximum acceleration without taking your eyes off the track. A 24-point selection dial and the +/- buttons on the front of the wheel let you further fine-tune your driving preferences.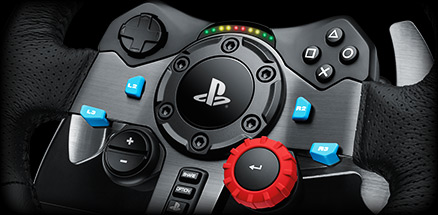 Responsive Floor Pedal Unit
Adjustable for maximum control
Maintain a more realistic driving body position with the separate floor pedal unit with integrated throttle, brake, and clutch pedals. G29 Driving Force lets you comfortably accelerate, brake and change gears with the feel of an actual car.
The nonlinear brake pedal mimics the performance of a pressure-sensitive brake system for a more responsive, accurate braking feel. For even finer control, reposition the pedal faces to make heel-toe maneuvers easier to perform.
Rubber feet for hard surfaces and a patented retractable carpet grip system help your pedals stay right where you put them.
Mounts Securely
Performance that stays where you want it
Drive fearlessly knowing the wheel won't shift during aggressive maneuvers. The racing wheel mounts securely to your table or racing rig via built-in clamps or screw mounting points.
Take your racing to the next level with a Playseat® racing simulation cockpit.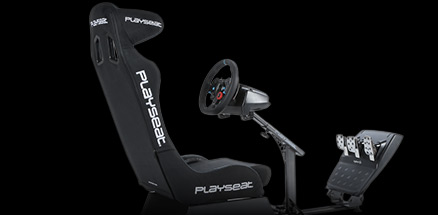 900° Steering
For realistic turns on the track
The 900-degree lock-to-lock rotation of the G29 Driving Force means you can turn the wheel two and a half times. It's the same degree of motion as a steering wheel inside a car.
Steering Wheel Stripe
Stay oriented in the right direction
Easily see if your steering is dialed in using a visual cue within your peripheral vision. The steering wheel stripe is a visual indicator of which direction the wheel is pointing.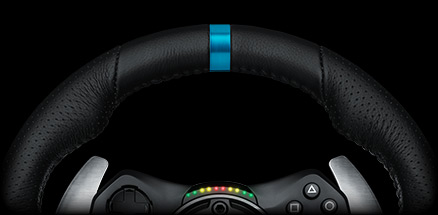 Game Compatibility
To ensure compatibility, we work closely with game developers to ensure compatibility with our wheels. To see a list of tested games, click here.
Specifications
Part Number
Black: 941-000139
Warranty Information
2-Year Limited Hardware Warranty
System Requirements
Playstation®4 or Playstation®3
Powered USB port

OR

Windows® 10, 8.1, Windows 8 or Windows 7
Mac OS 10.10+

Powered USB Port
Internet connection and 150MB hard drive space (for optional software download)
Games that support Logitech® force feedback racing wheel
Package Contents
1 x Steering wheel
1 set Pedals
1 x Power adapter
1 x User documentation 
Physical specifications
Wheel


Height: 10.63 in (270 mm) 
Width: 10.24 in (260 mm) 
Length: 10.94 in (278 mm) 
Weight without cables: 4.96 lb (2.25 kg)

Pedal

Height: 6.57 in (167 mm) 
Width: 16.87 in (428.5 mm) 
Depth: 12.24 in (311 mm) 
Weight without cables: 6.83 lb (3.1 kg) 
Technical specifications
Software Support (at release): Logitech Gaming Software
Connection Type: USB
USB VID_PID: 046D_C24F (PC Mode)
USB Protocol: USB 2.0
USB Speed: Full Speed
Indicator Lights (LED): Yes

Wheel
Rotation: 900 degrees lock-to-lock
Hall-effect steering sensor
Dual-Motor Force Feedback
Overheat safeguard

Pedals
Nonlinear brake pedal
Patented carpet grip system
Textured heel grip
Self-calibrating

Materials
Wheel spokes: Anodized aluminum
Wheel cover Hand-stitched leather
Steering shaft: Steel
Shifter paddles: Brushed stainless steel
Mounting clamps: Glass-filled nylon
Pedal frames and arms: cold rolled steel
Pedal faces: Brushed stainless steel
Pedal piston sleeves: Polyoxymethylene thermoplastic (POM)
Product Highlight:
Gaming Racing Wheel Set

For PS3 and PS4

Dual Motor Force Feedback

Helical Gearing

Fingertips control

Responsive floor pedal unit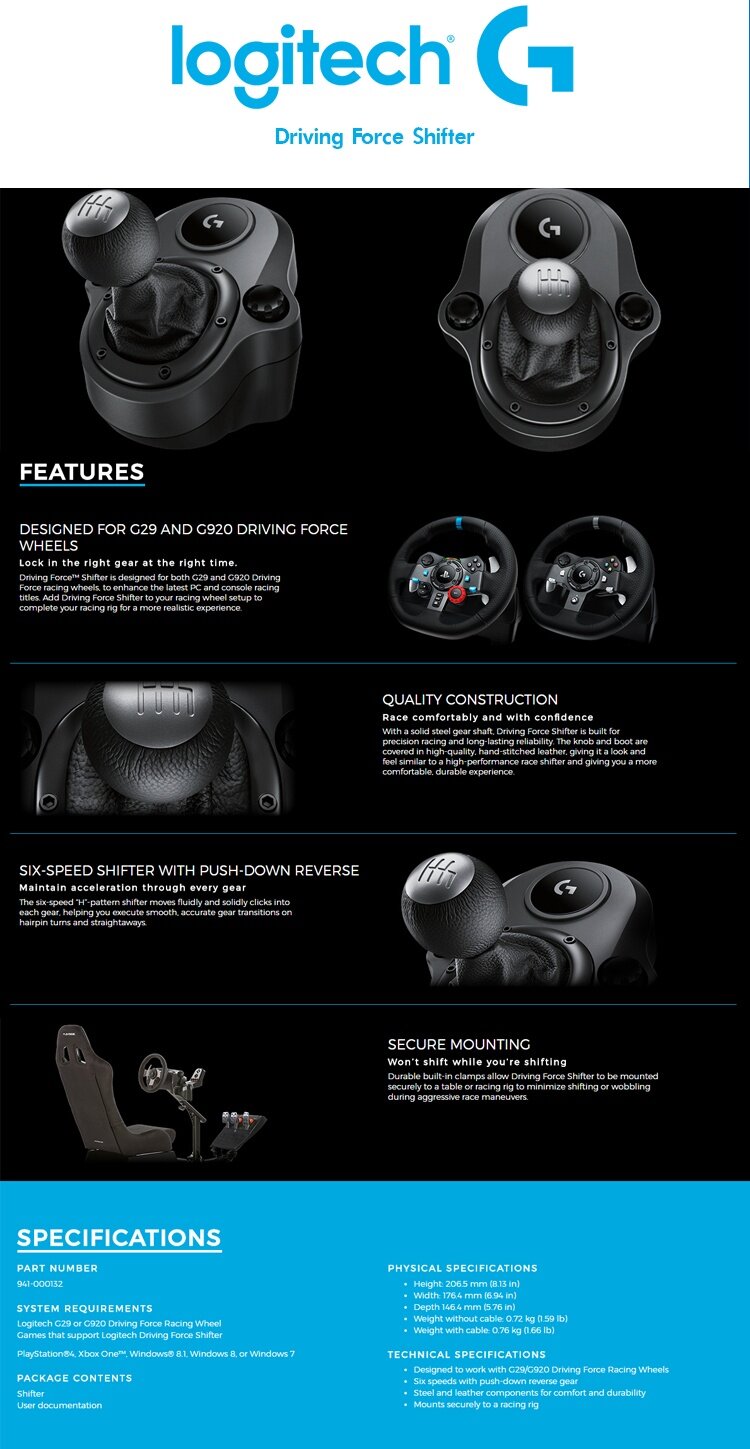 Shipping & Warranty
Shipping Policy

Shipping Address
We currently only provide shipping within Malaysia (Peninsular Malaysia, Sabah and Sarawak.)Please note that, the shipment delivery lead time and self pickup lead time will start on the next working day after your purchase

Self-Pickup
You can choose to collect your purchases at our Low Yat Plaza, Digital Mall, IOI City Mall & MyTown Shopping Centre outletOnce the order is ready for collection, we will send you an SMS message or email notification or Phone call.* Self Pickup hours will be subjected to change due to public holiday and ALL IT's company events.* Please Inspect purchase item during self pickup, ALL IT will not be liable to any damage or missing item once customer leave the outlet. (except defect cover by warranty). * Self pickup order must be collected within 90 days from the purchase date. Failure to collect the order within the 90days time frame will result in the forfeit of the order and with no refund.

Shipping Time
All orders are delivered through our designated carrier.

For Peninsular Malaysia
It usually takes between 3-5 working days (Monday to Friday) for goods to arrive at your destination. The shipment will be delivered during office hours between 9:00 am to 5:00 pm weekdays only.

For East Malaysia
It usually takes between 5-7 working days (Monday to Friday) for goods to arrive at your destination. The shipment will be delivered during office hours between 9:00 am to 5:00 pm weekdays only.

For Pre-Order
We may not be able to guarantee the estimated shipping date for Pre-Order item. We will ship out the pre-order item, the moment the item arrived.Pre-order may also be delayed subject to processes/approval from Malaysian Customs Department.**Kindly be informed that due to festive season (eg. Christmas, Chinese New Year & Hari Raya), online order received are not guaranteed to arrive on time. The delay maybe due to cut off date set by our courier service provider or overcapacity. ** We shall not be liable to any losses or damages in the event of delay or failure of delivery caused by the courier service provider.Please refer to this link for more information and detail about our Shipping Policy ---> https://www.allithypermarket.com.my/pages/shipping-policy
Exchange Policy
ONE-to-ONE Exchange of Products within 14 Days is applicable for Online transactions.
Only certain products with a manufacturer's defect are entitled to a ONE-to-ONE exchange (subject to availability of stock)
Please note that certain products such as: Projectors, Monitors, Software, Tablets, Smartphones, Apple Products, Branded Desktops, Notebooks, Printers and Consumables (eg Ink Cartridges or Toners) are not available for a One-to-One exchange and must be sent to the manufacturer's' service centre for any warranty service.
The ONE-to-ONE Exchange of Products period will be according to the Invoice issued date.
 Warranty Policy
All sales are considered final, no refund will be entitled.
ALL IT's warranty policy is in accordance with the terms and conditions of its respective suppliers.
ALL IT will provide warranty service for delivery to (and from) the manufacturer's Service Centre based on supplier/principal's given period - 3 or 6 months, 1 year, or more than 1 year. For item more than 1 year, we will cover warranty service for 1st year only. After 1st year, warranty handling fee will be charged.
To claim warranty, customer needs to send the product to any of our retail outlets or ALL IT online store office address located at Puchong, Selangor; at his / her own cost. The return of the repaired product to customer will also be at customer own cost. Customer can choose to send and pick-up repaired product at ALL IT outlets to avoid delivery fees.
Physical damage and software issues is not covered under warranty.
Customer can also opt to walk-in to any of our Klang Valley outlets to request for exchange or warranty services. You are required to bring along the invoice for verification purposes. By visiting our outlets direct, it will be faster and easier as our technicians can test the product on the spot. Our outlets location: http://www.allithypermarket.com.my/pages/store-location

Products warranty period will be according to the Invoice issued date.
Please refer to this link for more information and detail about our exchange Policy and Warranty Policy page
---> https://www.allithypermarket.com.my/pages/warranty-policy
 Manufacturer's Warranty
Some of the goods advertised on this ALL IT's website come with a manufacturer's warranty. You should directly contact the manufacturer or service centre for details relating to the available manufacturer's warranty (if any)
Many of our products come with a guarantee or warranty from the manufacturer. By approaching brand's authorized service centre, the warranty process can be expedited.
Logitech G29 Driving Force Racing Wheel + Driving Force Shifter Bundle